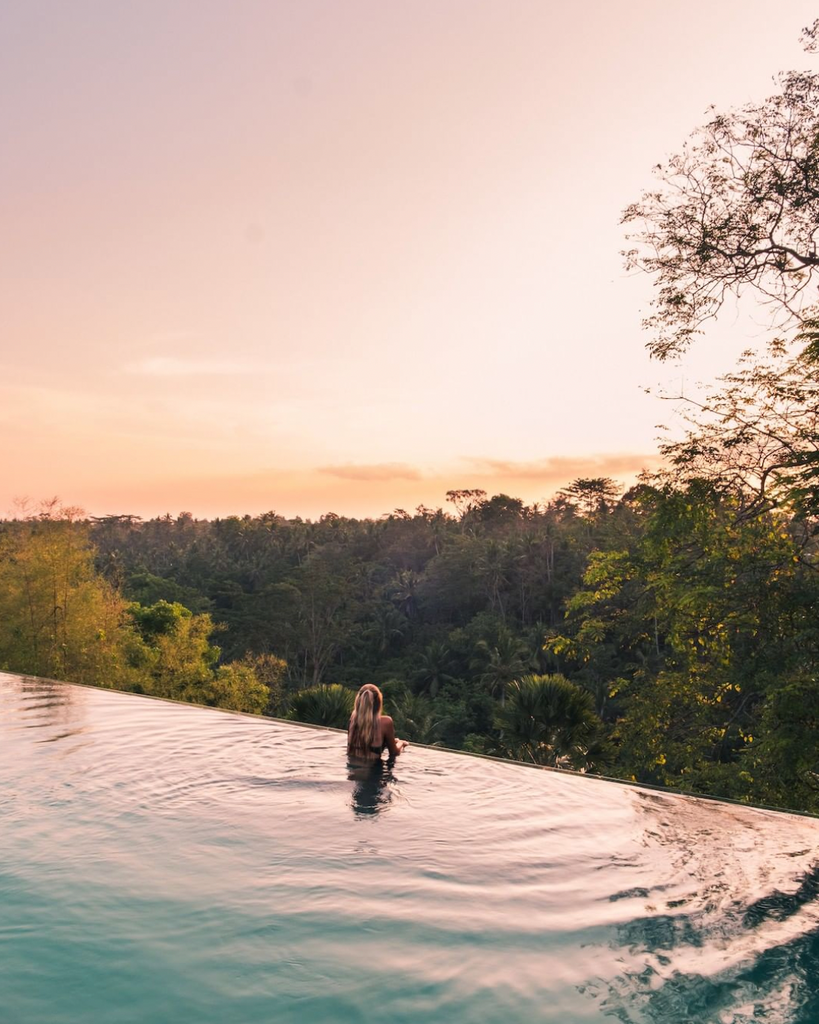 (photo by @aswetravl)
If like us, a summer holiday in Bali is top of your mind right now, you will like this little guide through 3 hotels we think are worth staying.
Bisma Eight 
(courtesy of Bisma Eight)
Built in the uplands of Bali, Bisma Eight in Ubud is a daydreaming hotel where you can spend all day looking out at the land and greenery. The hotel's collection of suites and private villas feature furnishings that beautifully blend Balinese craftsmanship and Japanese design with materials such as hessian, woven leather and basketwork and wicker. A breathtaking photogenic infinity pool hangs over the valley, and an open outdoor corridor is blooming with frangipani, pandans and bamboo. The hideaway that is one with nature offers chemical-free toiletries. The rooftop Copper Kitchen & Bar, add a contemporary twist to international and Indonesian classics, with ingredients directly sourced from the hotel's organic farm. The hotel is set on the edge of a river, giving Bisma Eight its status as a landscape hotel. We suggest you take a stroll to appreciate the surrounding green rice paddies, ramshackle huts and shrines. You can also easily take the hotel's shuttle to wander  around Ubud's busy centre with market stalls, boutiques and restaurants. 
Find out more about Bisma Eight here.
Como Uma 
(courtesy of Como Uma)
Uma in Sanskrit means home, which is the vibe you get from this place. The Como Uma hotel is a modern escape into the verdant hills and lush jungle of Ubud. A stay there invites us to slow down. Upon arriving you will be greeted in a modern, all-white lobby. With its 52 rooms and suites, 55 residences and 12 penthouses, the hotel is the biggest and the most luxurious in Ubud. Filled with contemporary furniture the rooms feel light and airy. Some come with a private instagrammable terraces pool, and others with a beach view that offers the perfect sunset moments. Designed to make you feel as an honored guest, the Como Uma hotel is perfect for families and honeymooners. Food at the Beach Club is a perfect example of expat-inspired Balinese "clean cuisine" including coconut French toast, quinoa bowls and homemade yogurts. The Uma Cucina serves pasta and pizzas and for those who are looking for indonesian food, they can try Kemiri further into the property. If you're itching for some movement, you can take a guided walks through ride paddies and forests, tour temples and museums. 
Find out more about Como Uma hotel here.
Nihi Sumba 
(courtesy of Nihi Sumba)
The Nihi Sumba hotel is the place you go if you're looking for a wellness destination. It feels open and peaceful, a surprising balance between upscale and down-to-earth. A surfing outpost, the place offers the possibility to fish, hikes among breathtaking waterfalls or stand-up paddle to the nearby Wanukaka river. The hotel also included a spa and a yoga platform - a true invitation to relax and treat yourself. The Robinson Crusoe-style treehouses are surrounded by evergreen gardens and wide open ocean vistas. The whole place is utterly romantic as you feel in constant contact with nature. While you're there, appreciate the luxury of solitude and get lost in endless promenades in the empty beaches. 
Find out more about Nihi Sumba
here
.