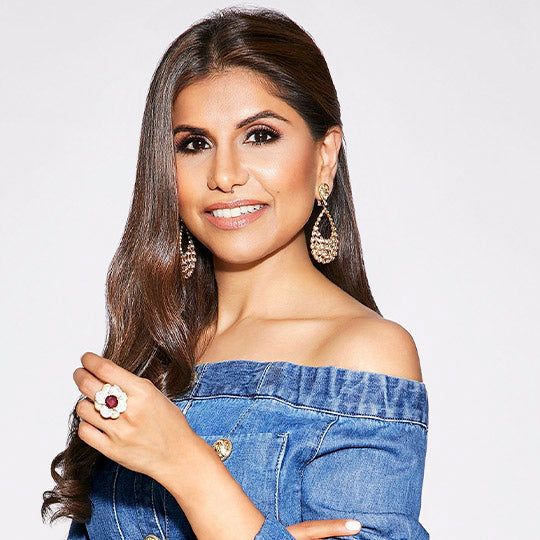 The Kindness Gaze Series: Diamond are a girl's best friend with Kajal Fabiani, founder of KAJ Fine Jewellery
On Career & Entrepreneurship
You are a jewellery designer, tell us did you find your passion and how did you decide to start your own label, KAJ Fine Jewellery? 
I come from a family of entrepreneurs & have grown up with business & trade talk on our dining table. I always loved styling and jewellery (separately) as a young girl but it wasn't till I studied at GIA that I really fell in love with diamonds and stones. I guess I put my sense of style and my love for stones, thrown in with the adventurous entrepreneurial family gene, into starting my own business.
I studied the Indian market and saw that the client was much more well informed today, and I felt there was a gap that the luxury consumer was looking for. They wanted a clear, clean aesthetic for casual and formal pieces, and I think I managed to bridge that gap with my distinctive yet wearable collections.
Take your passion to where opportunities lie. You have to create your own version of success, not someone else's idea of it, set your own goals & then go about trying to achieve them with integrity, honesty & ambition. That is what I truly believe in. Always keep integrity & honesty as the core of your business whatever the odds 
COVID pushed me to accelerate our digital strategy. We were already supplying to many countries in Asia, Europe and the USA, but we started to deliver all over the world in 2020. We had to pivot and make use of new and effective sales strategies, whilst keeping the whole team motivated. I guess I love the challenges, the ups and downs of being an entrepreneur. It is not always an easy run. You have to be able to enjoy and handle the ride. It is all part of the journey.
On Femininity & Jewellery
Do you agree diamonds are a girl's best friend? What do you like about jewellery and how do you think it empowers women? 
I have a creative vision, and I use my jewellery as an outlet to translate that vision into designs that tell a story. Women want beautiful, wearable pieces that they can collect, enjoy wearing and share with their loved ones. Jewellery for a woman is a way of expressing her personal style. It could be a fun piece or a collector's item. Today's woman is breaking stereotypes and using her own voice and style much more confidently than before.
On Creativity
You call yourself an impulsive designer, tell us about your creative process and from where you get your inspiration from. 
I am a self-taught designer. Like I mentioned earlier, I have had a strong and distinctive sense of style since a young age. My designs are original, which I hope will withstand the test of time. My inspiration comes from so many things. Today we are so digitally exposed and have a continuous sense of form, shape and colour thrown at us. One has to be able to amalgamate all these senses organically to create collections and pieces that have distinctive forms yet are relevant to today's fashion and style.
On Heritage
Your creations combine modern elegance with tradition, do you think it is important to infuse tradition into today's jewellery and why? 
With maturity, I have had a growing interest in culture and traditions. One must keep their imagination vivid at all times, looking at the future but without leaving behind the past. Today with everything being so mass-produced, we must go back to the tradition of bespoke and limited editions. That is how crafting was done in the past. We must go back to our history, culture and traditions, approaching them in a more modern way for today's audience.
On Style
You know we're fans of your everyday luxury Small Marquise Evil Eye chain bracelet, can you give us some tips for stacking jewellery like an It girl?
One must have an element of unpredictability in what we wear and how we wear it. We always advise our clients to stack in unusual ways with their necklaces, bracelets and rings, but still, make it cohesive. For example, you could have your grandmother's charm necklace converted into a bracelet and stacked with your evil eye or initial charms. One can express themselves thru stacking too, depending on their look or mood.
Check KAJ Fine Jewellery pieces featured in our boutique here. 
On Self-Care 
What is self-care about for you and how does it translate into your life? 
My mental, physical and spiritual health are all important to my day to day self-care.
I wake up and start my day with chanting, followed by one of my workouts (yoga/weight training/cardio). This is a routine I have been following for more than 5 years now and it makes me start my day on a high. This is exactly what self-care means to me. My mind, body and soul being aligned. My spiritual journey has made me look inwards a lot more, and made me feel extremely grateful for everything that I have.
What makes it so special is that it has all come together and given me an inner sense of happiness. When I am happy and whole, I can spread that to my family and friends too. In addition to this, I am very mindful of what I put into my body. Of course, we all have those cheat days and I love my Red Wine and chocolate, but more often than not, I am watching what I am eating.
On Kindness
What does kindness mean to you?
Compassion is a big part of kindness. Whether we are helping the needy, our family or friends, being able to encourage someone to do better and be better is what the world needs more of. I hope I can go through life building this compassionate side to myself and helping others in any way that I can, financially or emotionally, for them to be happier in their own life.
From a business perspective, we also look to be kind to Mother Nature by using sustainable materials wherever possible and gemstones from mines where the labourers are well compensated. We find ways to do things that are sustainable on a day to day basis.
Looking for more tools to instil self-care rituals into your life? Visit our online boutique for more options.