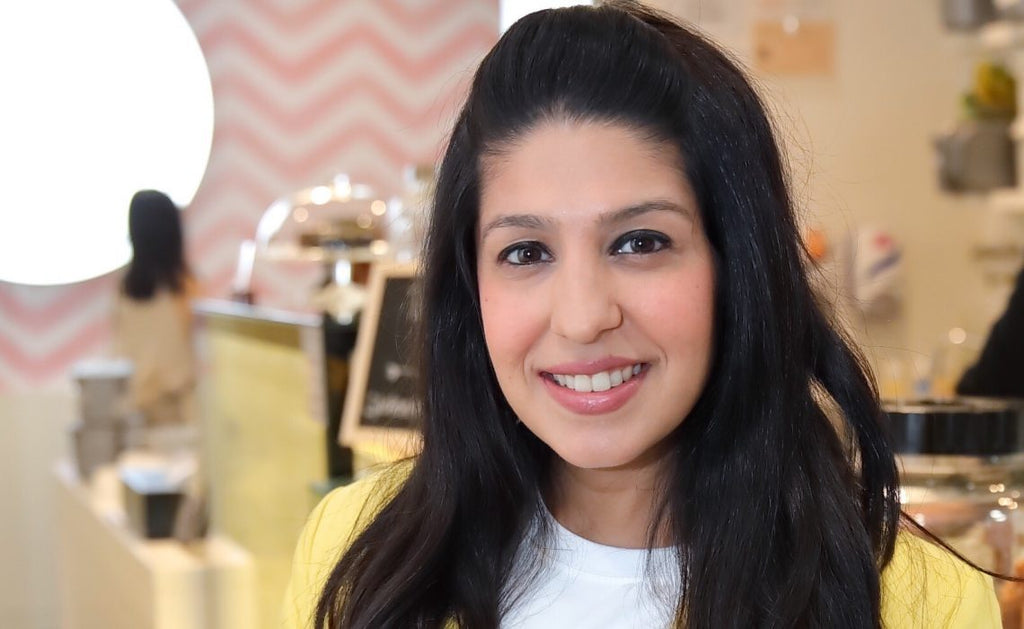 Kind Kones started our form experiments in your family home kitchen - can you tell us about this humble start? What is the story behind Kind Kones?
When my elder daughter was born over 5 years ago, I developed a mild form of dairy intolerance.   I bought a small ice cream machine so I can start making dairy-free ice cream for fun in my kitchen.  After a lot of experimenting, I realised that the ice creams I was making actually tasted good despite them being vegan.  My husband and I chatted about selling these ice creams as there were hardly any plant-based alternatives in Malaysia (where we were located at the time).  And whatever options were available - weren't mind-blowing.  We decided to get a pastry chef on board to at least have someone with the technical ability with food to elevate the ice cream.  We also invested in a commercial batch freezer and, boom, Kind Kones was born.
Have you always been working in the food industry? What made you want to start your own business?
Actually not at all.  After graduating with my masters in public relations, I joined an advertising firm in Bangkok before joining my family's business – a Thailand-based fashion retail company called Jaspal Group.  F&B is an entirely unfamiliar space that I ventured into because of a passion project.  What pushed me towards entrepreneurship was a combination of the need to prove my capabilities, the desire to make a difference as well as share my passion and discoveries with people.  Of course, all this wouldn't have been possible without my husband's support as well as our families.  As an entrepreneur, a female one at that, I've been faced with numerous challenges but also utmost self-fulfilment and validation. 
Kind Kones is offering healthy choices of ice cream - they're vegan, with no refined sugar and you also have gluten-free options. Are you a believer that it is possible to indulge in guilty pleasures but still be eating healthy?
I believe it's possible to indulge with better-for-you alternatives. At Kind Kones we aim to provide just that.  We still want people to have an indulgent and fun experience and feel like they are eating sweet treats rather than "super healthy" desserts.  We still use sugar, but a better substitute.  We avoid added chemicals and highly processed ingredients.  We have gluten-free options because we believe we can still make fantastic ice cream and cones without it.  We want our products to appeal to the mass - and for me, the ultimate gratification stems from seeing children enjoy our ice cream.  And these hard-to-please critics want ice creams that taste like any regular ice cream.  That's the real challenge and I believe we do pretty ok! 
What is your main source of inspiration? Can you share a bit about your creative process?
So I take inspiration from my travels (well, pre covid anyways!), my family, my friends, internet.  Social media is a huge platform.  We always engage our followers for their creative input.  We also love to ask our customers at the stores what they are looking for and ways we can improve.  We consolidate all this to kick start our R&D process. 
What is self-care about for you and how does it translate into your life?
Self-care is taking some time out of the day to prioritise me.  While trying to juggle between kids, work, social and personal life, it's natural to constantly feel overwhelmed.  Personally, I find it crucial to incorporate elements of self-care into my daily life.  I go for a lot of walks, yoga classes, and be sure to allocate time for a good workout.  I like to get my hair done along with a mani-pedi.  Evening comes, I definitely enjoy a candlelit night in with a good book or an episode of something on Netflix once the kids are asleep!
What does kindness mean to you?
Kindness to me is to do something that lifts another person without expecting anything in return.  It's thoughtfulness, gratitude and empathy towards yourself, your loved ones, strangers, the environment and the planet.  Kindness is contagious, universal and free!  It can create a ripple effect that knows no end and all it takes is a little shift in energy towards mindfulness. 
Find out more about Kind Kones vegan ice creams here.