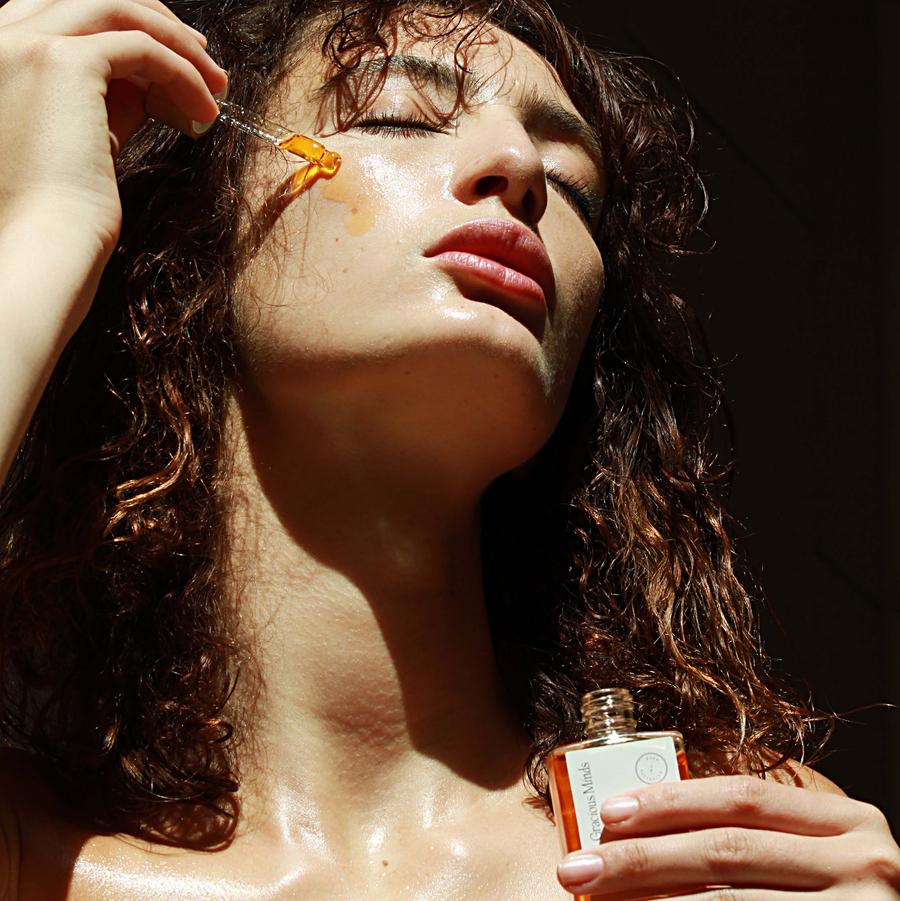 (Photo credit: Gracious Minds) 
For a long time, we used to not positively associate the words 'oil' and 'skin' together. Today face oils are everywhere and we even hear they have the power to set us on the path towards a gorgeous complexion. In this article, we dive into the different types of face oils and the potential benefits they can offer to your skin. 
WHAT ARE FACIAL OILS? 
Face oils are a skincare solution among others, they are tailored to help complement the oils our skin naturally produces to prevent water loss and keep it hydrated. Face oils have many benefits, one of their main functions is to serve as extra protection for your skin. By protecting the outer layer of your skin with oil, you help soften and hydrate it. Beyond their hydrating quality, face oils can also support your anti-ageing routine because of their antibacterial and healing properties.
(Photo credit: Gracious Minds) 
HOW TO INCORPORATE FACIAL OILS IN A SKINCARE ROUTINE? 
If you feel confused between the different skincare solutions and how/when to apply them in your beauty routine - a good rule of thumb is to go from lightest to thickest. Face oils will generally be applied after a serum and before a moisturiser or sunscreen. 
TEST IS OUT SLOWLY FIRST
Even if face oils can be a good addition to any skin type, try to test it out first. Each skin has unique needs and you may try different oil types and brands before you find the perfect one for you. 
(Photo Credit: Gracious Minds)
FACIAL OILS FOR OILY SKIN
People with acne-prone skins will have to go for a very light facial oil to prevent pore-clogging or oil that contains ingredients that can eliminate acne-causing bacteria such as squalane oil,  jojoba oil, aloe vera oil, tea tree oil. 
FACIAL OILS FOR DRY SKIN 
For dry and ultra-sry skin, use facial oil before you apply a rich moisturiser on top. Consider using a moisturiser with hyaluronic acid in combination with a facial oil for extra hydration. Good facial oils for dry skin: argan, sunflower, rosehip, coconut.
FACIAL OILS FOR SENSITIVE SKIN
If you have sensitive skin, test out the oil in a small area of your skin (neck, hands), before trying it out on your entire face. If your skin reacts well to this new product, try the oil on your face. People with sensitive skins might want to try oils like chamomile, lavender, grape seed, rosemary, jojoba.
(Photo Credit: Gracious Minds) 
FACIAL OILS FOR ANTI-AGING 
Facial oils when used daily are known to improve skin texture and reduce fine lines. Some oil such as grape seed oil can help protect the skin from damaging free radicals and provide additional hydration because of its fatty acids and polyphenols. 


Check our newly arrived Vitamin Sea Luminosity Facial Oil. This luxurious rich blend of natural antioxidant extracts will help restore and balance your skin.