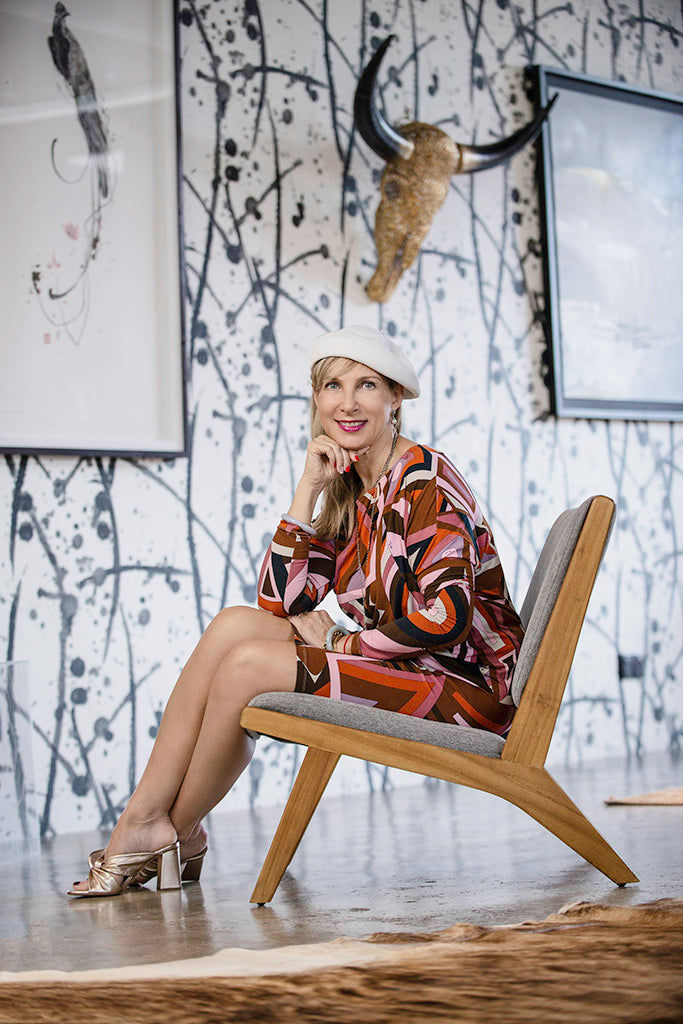 With a father sculptor and a grandfather poet, the arts have always been present in your life from early childhood. Do you think this has informed your choice to first study gemmology and fashion then pursue a career in interior design? 
I strongly believe in my case that being surrounded by creative people I admired while I was growing up were one of the major factors of how I approached my creative and professional life. I was always noticing as a child the importance of balance, being in how people dressed, their home or the way Art gave such a final emotional touch to a room and that balance is like any gage in life - it's a personal perception developed over the years of training your eye to recognise harmony. Ultimately we follow certain rules of beauty, an equilibrium that Nature itself follows - we think we invent but in the end, we must humbly recognise that the Teacher of all that is beautiful comes from Nature, one just has to be perceptive and look at the way colours are mixed and shapes are formed and textures are superposed. 
Interior Design is about developing that keen eye and being brave enough to stand by your own taste and boldly follow in Nature's footsteps. I personally am attracted to pure lines and textures - colours add the final touch - textile design, furniture design, rug design along many other trades are the ones that bring us the myriad of possibilities and juxtapositions. Art is the final touch and brings soul and the added personality to space.
You managed to succeed in an industry that is mostly male-dominated. What challenges did you face and what would be your advice to young women who want to make it in a field where there are only a few women?
I never focused on the possibility of being victimised. I was always self-assured and would not let myself be daunted by that possibility. I read an article by Zaha Hadid who indeed was lashing out on the fact that as a woman she had to fight hard to be the phenomenal architect she became. But interior design is considered the "soft side" of the business and the "feminine touch " to me was an added plus together with that famous and often neglected "sixth sense" we possess to read between the lines and act like a reed - to bend but not break, supple enough to listen, strong enough to find a way around. The advice I would give is that we are all given arms to fight, use the ones the universe gave you.
When you approach a new project, how do you compromise between the client's design brief and your own individuality as a designer? 
The secret is to find out what your client wants - a skill that is honed through years of practice, of reading between the lines, of listening to the unspoken message, and of analysing the situation as it is. Be it for a home or a hotel, each project must answer the needs of its owner. I approach the practice with a design flair - a project that is impractical is a failure no matter how beautiful it looks. As to how I design it my own way that is not hard - my training, my taste and my affinity to everything beautiful do the rest. 
What is your main source of inspiration? Can you share a bit about your creative process?
Each project has a soul to be discovered and a message to tell, traditions to unearth, a past to revive, a future to build upon. I find my inspiration in the past to give the foundation for a beautiful story to tell. I don't think we build out of nothing, nothingness does not exist. Therefore I start with research, the start of the tale and the inspiration can come from a flower, a person, history, etc, the right inspiration is the start of a beautiful adventure for the Designer and for the Client. The secret is in that moment of self-recognition in what is being presented, one needs to feel one with the design and own it to appreciate it and invest in it money and soul. 
You are a woman of many talents, how do you juggle between being a business owner and a creative director?
I was told once "never chase the money - do what you love and money will come to you naturally" - and how true it has been and it is a message I wish to share for all that chase the "dollar dream". My life revolves around beauty and not every beautiful thing is to be owned - like in a Museum, you look to enjoy and leave with beautiful images that made you happy. Creativity has the power to make you forget the difficult moment and not let you walk with a chain binding you to realities that sometimes bring you down. Being both a business owner and a creative mind requires establishing balance. You have to be realistic enough to face the daily business dealings and creative enough to know how to put them aside so your mind can fly. 
What is self-care about for you and how does it translate into your life? 
Self-care is about learning to be selfish - finding time and space to give yourself the needed time to rest, breathe and renew yourself mentally physically emotionally and spiritually. Self-care is needed before you can effectively take care of others - it's a much needed moment when you connect with yourself amongst Nature (for me) and let go of all the fears, tiredness and disillusionment that can weigh you down. Only after can you rise again with a renewed confidence, power and resolution to shape your world. Take care of yourself the World will thank you! 
What does kindness mean to you? 
Kindness is when you do good without hope of return - kindness is when you hold yourself and love yourself so that in return, the world can have the best of you! 
Check the work of Isabelle at www.miajadesigngroup.com.