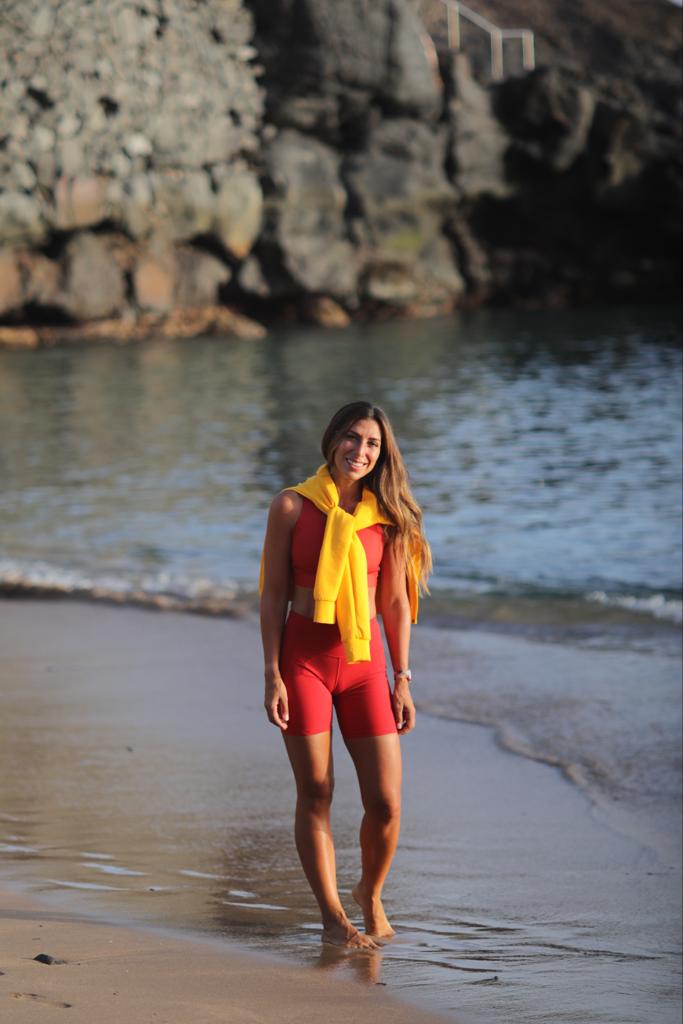 (Photo Credit: It's So Simple)
Rachel, is the founder of It's So Simple - an online fitness program that helps you develop a healthy mindset, track your progress and gain a balanced and sustainable lifestyle. We sat down with her and discussed her program, her own journey into wellness and the importance of self-care. 
IT ALL STARTED WITH YOUR OWN EXPERIENCE AND JOURNEY INTO WELLNESS - CAN YOU TELL US MORE ABOUT WHAT INSPIRED YOU TO CREATE THIS BUSINESS? 
My personal journey was truly life changing.  It wasn't just about weight loss, it was a process of taking back control of my mind and body.  I have become: healthier, happier, more energetic and more focused.  
When COVID hit and we went into lockdown, gyms closed and a few friends asked for help to stay motivated and keep fit.  This sparked a real passion in me, I realised that this was my calling.  I love helping women to become better versions of themselves.  Since then I have worked tirelessly to build the business and really hone the It's So Simple way of working with our clients from around the world.  We have also built an incredible team at It's So Simple, who shares our mission and vision of helping women regain their confidence. 
My husband always says that when I have a goal in mind I am single-minded and so it has been with It's So Simple.  It has somewhat taken over my life!  I am blessed to have an incredible partner in my husband, Daniel, who has been incredible support both in the business and carrying more of the load on the home front.
(Photo Credit: It's So Simple)
WHAT ARE YOUR SECRETS TO MAKING HEALTHY CHOICES AND YOUR TIPS FOR MAINTAINING A WELLNESS LIFESTYLE? 
So I want to start with a confession….I don't ALWAYS make healthy choices.  My strong view is that we should all practise the 80/20 rule.  Make healthy choices 80% of the time and it becomes much more sustainable.
Healthy choices are not complicated, it really starts with education, learning what is good and what is not so good.  Some examples of healthy hacks I suggest to my clients are: cut out all extra sugar from the diet, it's not helpful and sets us on a rollercoaster of highs and lows.  Substitute really sugary fruits for berries and citrus, carbs like potatoes for sweet potatoes and try to avoid excessive oil in your cooking.  All these small things add up.  
Another key to a healthy diet is eating lots of protein, it helps build muscle and keeps us full for longer.  Muscle is the real secret weapon, the more you have, the faster your metabolism will be.  We have to work hard to build muscle as when we age our muscle mass naturally wastes away. This is really a program where I aim to shift body composition and not just lose weight. 
(Photo Credit: It's So Simple)
CAN BODY POSITIVITY AND FITNESS COEXIST? WHAT IS YOUR TAKE IN THAT? 
This is such a difficult question and really depends on your definition of body positivity.  There are for sure extreme views on either side that are not compatible with one another but I firmly believe that there is a significant area in the middle where the two can coexist.
For me, body positivity is about loving yourself and your body whatever state it is in, our bodies are incredible, particularly us women.  Society places unrealistic images on us and that causes a lot of challenges for women today.
Fitness is not primarily about looking good, it is about being healthy and well within yourself.  Yes we can change how we look, but the biggest change is on the inside.  I just love the Latin saying: Mens sana in corpore sano (a healthy body in a healthy mind).  Working on your fitness really does benefit both body and mind….but we must love our bodies every step of the journey.
(Photo Credit: It's So Simple)
WHAT IS SELF-CARE ABOUT FOR YOU AND HOW DOES IT TRANSLATE INTO YOUR LIFE?
(Photo Credit: It's So Simple)
Self care is about making time for me.  By taking time everyday to look after myself, I can show up to the rest of my life as the best version of me.  In my case the sacred time is my daily workout.  Make no mistake, I'm not superhuman...I don't always want to do it, but I know that after that 30 mins or an hour I will feel like a different woman.
I have learnt to become unapologetic about putting myself first sometimes, initially I was riddled with guilt, as I was totally living my life for others.  I think these are normal emotions for mothers and we need to work through them to learn to love ourselves and place self care on the agenda.  Guess what, the family won't hate you for it, they might even thank you for it!
Find out more about It's So Simple online coaching at www.itssosimple.co.uk.
Check more tips on wellness in the
JOURNAL
section of our website.